Get Backup Interface
The Preferences Dialog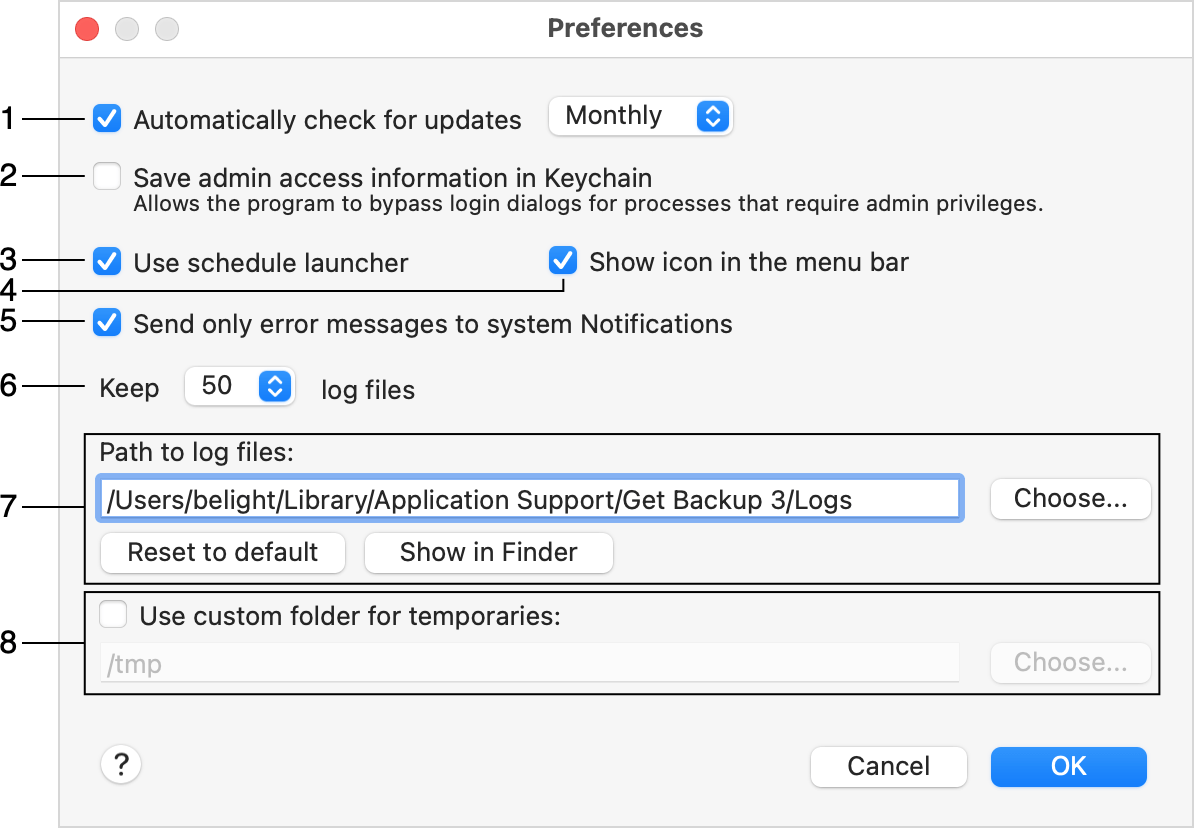 1 – Automatically check for updates lets you specify how frequently the program checks for updates.
2 – Run the program with the administrator privileges. To activate this option, you will have to input the administrator's password and re-start the program.
3 – The option to store the administrator's password in the Keychain. Once you activate this option, be ready to input the user name and password. To remove the password from the Keychain, deactivate this option.
4 – Activate this option to skip displaying the warning message before starting cloning. The message states that the content of the destination volume will be removed. Select this check box to run scheduled cloning with no need of user's attention.
5 – Automatically start up Get Backup to perform scheduled tasks. If this option is not activated, you should open the program manually.
6 – Show the program icon in the menu bar.

The icon indicates whether the scheduler is in the regular mode or suspended. It also gives you options to suspend or resume the scheduler, and to bring up the main window of the program or its Preferences.
7 – Limit the number of the most recent log files stored on your computer.
8 – Determine where log files should be saved. You can specify a new location for log files or open their location in Finder.
9 – Choose a folder for temporary files. Normally, the system folder is used. Using a custom folder may be helpful when:
There is not enough space on the system volume.
While creating a multi-volume archive (with archive size limit option), the whole path to a temporary file is limited by 80 characters. If the program runs out of characters, you can change the location of temporary files. Choose a temporary folder that is as close to the root point of the file system as possible. So, a short path like "/Volume2/" is better than a long one "/Volume2/Users/Bobby/Documents/Backups/Temporary/".