Concealer Interface
Program Preferences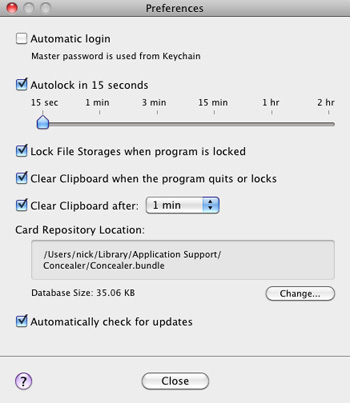 Automatic login is used to stop automatic logging in and return to manual entering the master password. To do this, you should deselect the Automatic login check box. The program selects this check box when you select Remember in Keychain in the login window.
Autolock lets you set up the period of time after which the program locks the main window when the program is inactive. This is used to protect your information when you leave the program running without watching your computer.
Lock File Storages when program is locked locks all open file storages when the program locks the main window.
Clear Clipboard when the program quits or locks lets you remove confidential information from unprotected Clipboard.
Clear Clipboard after lets you set up how long the confidential information should remain in the Clipboard.
Card Repository Location is the physical location of the information stored in the program.
Automatically check for updates specifies whether the program automatically checks for updates. To check for updates manually, choose Concealer > Check for Updates… in the menu.