Concealer Interface
Main Window
When you start the application, it displays the login window first. Until you log in, the main window and most menu commands remain locked.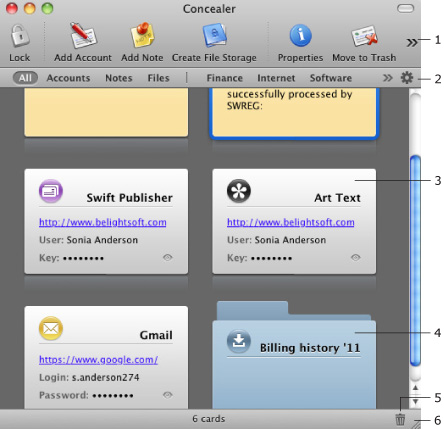 1 – Toolbar
2 – Category bar
3 – Card
4 – File storage
5 – Trash. Deleted cards get to the Trash. You can restore them, or delete them permanently.
6 – Status bar
The Toolbar
Lock – Log out to prevent access to information stored in the program. You can set up automatic locking the main window in the program Preferences.
Add Account – Add a blank account.
Add Note – Add a blank note.
Create File Storage – Add an empty file storage.
Properties – Display the properties of the selected card.
Move to Trash – Move the selected card(s) to the Trash.
The Search tool lets you search text in cards.
The Category Bar
The Category bar lets you organize your accounts, notes and file storages in groups by type (for instance, show only notes), or by usage (for instance, finance or software). By default, there are several usage categories which can be customized.