Working with Cards
Accounts
An account is a card used to store information in a form. The program provides you with several templates for the most common types of information, such as credit card numbers, login info, software registration, and more.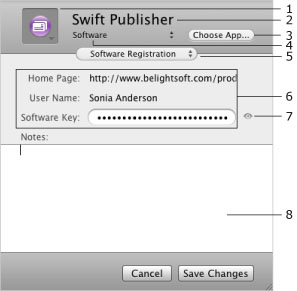 1 – The icon that appears on the card in the main window. To choose another icon, here and choose one in the list.
2 – The account name. You can see it in the main window.
3 – The Choose App... button is present only in Software Registration accounts. This button is used to specify an application and import its icon for your card.
4 – Here you can specify the category your account belongs to in order to organize cards in the main window.
5 – The account template type. The selected template determines the fields that are shown.
6 – Data fields used to store your information.
7 – The eye icon is used to display or hide text in the fields containing confidential information (e.g. passwords).
8 – The Notes area is used to place any additional information.
To add a new account:
Click the Add Account button in the toolbar to open an empty account.
Choose an account template.
Type in a name.
Choose an icon.
Select a category.
Type information into the fields.
Click Save Changes.
To remove an account, right-click on it and choose Move to Trash. To delete it permanently, empty the Trash.
To open an account, double-click on it in the main window.