Hi all,
There're some textures files available at the
BeLight Community
website.
They're made with IT using Generators/CI filters.
All of them are:
- 1024 x 1024 pixels size
- jpegs
- RGB (Adobe RGB 1998 colorsync profile) color model
There're archived (zipped) by category (there're several files in each archive).
Here're some examples of use:
- Starting with this file (made with AT)
- using some textures from the "Tiles" category: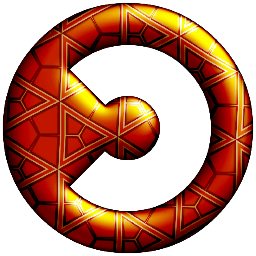 Here're the same examples with greater resolution (caution: 320 KB ~ 440 KB files !)
Ring with Tiles
WildLife
Sunny
Useful with Art Text (Fill) and with some applications supporting Blend Modes (these examples are made with Seashore).
Friendly