Graphic Tools and Effects
The Stroke Effect
The stroke effect makes text and vector shapes outlined.

To open the stroke tool, tap the Effects icon and choose the Stroke tab.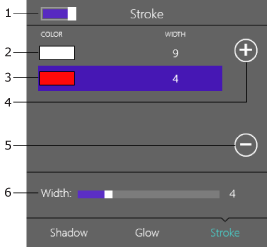 1 – Turn the stroke effect on or off.
2 and 3 – The applied stroke lines.
4 – Add one more line.
5 – Delete the selected line.
6 – The Width control defines the width of the selected line.
To change the color of the line, tap on the Color box and select a new color.