Graphic Tools and Effects
The Glow Effect

To open the glow tool, tap the Effects icon and choose the Glow tab.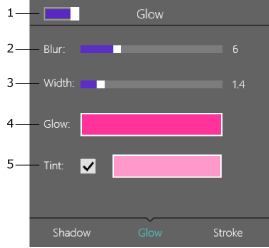 1 – The Blur parameter.
2 – The width of the glow effect.
3 – The color of the glow effect.
4 – Tint color check box. When it is selected, the second color button appears and you can create bi-color glow. In the picture below, (1) is the main color and (2) is the tint color.